Nursery
5 Year Plant Warranty
The only garden center in the area that offers a 5-Year Plant Warranty on trees and shrubs and perennials.
Our Garden Center
TLC Nursery & Outdoor Living has many things to offer to both the weekend warriors and hardcore gardeners.
Outside in the greenhouse, you will find a wide variety of plants, from vegetables and blooming annuals to tropicals and hearty perennials. Our lot showcases the many kinds of trees and shrubs available in our area. We take pride in stocking top quality plants, and the care of our expert staff ensures that your plants will be in optimal growing condition.
Inside the store, we have the products to make your outdoor space succeed. We carry Fertilome and Hi-Yield insecticides, fungicides, herbicides, and fertilizers for your garden and lawn. We also carry an organic line of FoxFarm /Happy Frog fertilizer and soil ammendment.  We can help you get your projects off the ground with all the right tools from shovels to sprinklers, we have the tools you need to make your project a success, plus many more products and information to help you solve all of your garden and landscape problems.
We also have a number of decorative outdoor items that will be sure to please the outdoor lover in you including fountains and decorative pots!
New as of 2023! We now have a gift store for our of your outdoor spaces. Such as pillows, rugs, candles, out door games and more.
TLC Nursery also carries decorative stone for walks and walls as well as edging and weed barrier fabric. We stock mulch, compost, top soil, and peat moss to complete your project.
Outdoor Living Kits
TLC carries outdoor living kits from Rockwood including fireplaces, outdoor kitchen, seat walls and water features. These kits are easily customizable and can be installed by any weekend warrior with limited construction skills and equipment.
---
Bulk Mulch and Stone For Sale
Forest Brown Mulch
1 Cubic Yards Covers 100-115 sq.ft – 3″ thick
Small Egg Rock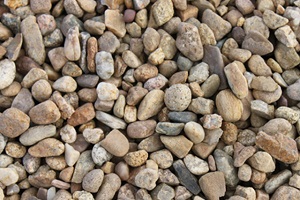 Quarter to Half Dollar Size. 1 Cubic Yard Covers 95-105 sq.ft. – 3″ thick
Large Egg Rock
Half Dollar to Just Under Baseball Size. 1 Cubic Yard Covers 75-85 sq.ft – 3″ thick
Bulk Compost
Great way to increase organic matter and drainage in beds, gardens and plantings.
Topsoil
Our bulk topsoil is a sandy loam and has very little weed seed. Sandy loam soils drain very well and are easy to work with. Mix in our bulk compost and you have a winning combination!
Don't forget about our FREE DELIVERY In Town Saturdays! Schedule your delivery of supplies for your weekend project by Friday at noon and we will deliver free of charge for in-town customers and at a reduced rate for those out of town.